HAPPY 4TH OF JULY – UNITED STATES INDEPENDENCE DAY – STARS & STRIPES – LET FREEDOM RING – AMERICA – SWEET LAND OF LIBERTY – RED, WHITE AND BLUE – GOD BLESS THE USA!!!
STEVE SANTELER's Last Board Meeting in June
We would like to honor and thank Steve Santeler for his many hours of service and generous contributions to the Harvard Community Senior Center.  Steve's kind and thoughtful input will be missed greatly!   Best of everything to you Steve!!   P.S. Steve is still our Community Development Director for Harvard City Building Department so, we can still expect to see him around!
Did you know that July 1st is International Joke Day?  For all those who signed up for the Walk With Ease…here's a good one:  
A woman on the phone to her friend; I feel like my body has gotten totally out of shape, so I got my doctor's permission to join a fitness club and start exercising…. I decided to take an aerobics class for seniors. I bent, twisted, gyrated, jumped up and down, and perspired for an hour. But, by the time I got my leotards on, the class was over.
Sharing our space with Food Pantry
On Wednesday, July 5th from 12:30 – 5:30 we will be sharing the Senior Center with our building mates the Food Pantry.  Visiting and cards are still very welcome  using the back half of the main room.
Walk With Ease – Save the Date
Thursday, July 27th at 8:00 a.m. marks the end of our first 6-week session of Walking.  If you participated, please bring your walking record notebook to compare notes with all.  Geoff Gentry, Physical Therapist from Harvard Physical Therapy, will return to do a end-of-session assessment and note improvements and/or issues.  Information will be available for the next 6 week session.  We don't want to lose our momentum!
Harvard Balloon Fest –  SPOTS ARE FILLING UP QUICKLY!!!  
See Glenda Stewart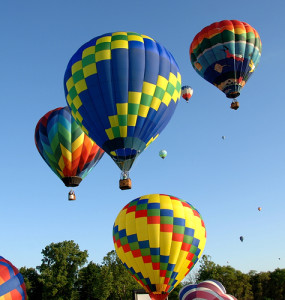 if you would like to sign up to volunteer.
YOGA IS BACK!!!  With a certified instructor teaching the Roll Model Method.
Watch for sign-up sheet and details.  This is one class your muscles won't want to miss!
Harvard Community Senior Center
6817 Harvard Hills Road  ~  Harvard, IL 60033
815 943 -2740
Corporate Sponsors
Founding Sponsor — The City of Harvard
Diamond  Sponsor –Mercy Harvard Hospital
Platinum
*First Presbyterian Church of Harvard
* Harvard Ranch for Seniors
Gold
*Grant Resource$, LLC
*First National Bank
*Harvard Chevrolet-Buick-GMC
Silver
*The State Bank Group
*Saunders & McFarlin Funeral Home
Community Giving Leaders –
Full Circle Foundation
Covenant Transtions
KA Fund – Bank of America
Board of Directors
Penny Goad, President
Tina Magnetta, Vice President
Nancy Berkholtz, Secretary
Mike Clingingsmith
Kathy Schack
Senior Advisory Council
Bob Reed
Barb Rowe – Chair
Barb Cheek – Recording Secretary
Peggy York
Kathleen Robson
Dorothy Berry
Barb Youhn
Harvard Community Senior Center
6817 Harvard Hills Road, Harvard, IL 60033
Phone: 815.943.2740
Website:
www.harvardseniorcenter.org
E-mail:
Sharon.Smith@harvardseniorcenter.org    Sharon Smith, Grant Manager
Glenda.stewart@harvardseniorcenter.org  Glenda Steward, Site Manager
Amanda.aleman@harvardseniorcenter.org   Amanda Aleman, Program Assistant