The Classroom
August brings back to school excitement!  So get your thinking caps on and join Daniel Serdar and Monika Hess as they lead a lively Round Table discussion the first two Mondays (7th & 14th) of August at 10:30am.  Daniel and Monika would like your input on how etiquette has changed along with technology and the impact this has had on meaningful and quality communication across many areas of life.
Walk With Ease program will continue!
We will have organized group walks twice a week.  Launch will be Monday, August 28th at 8am.  Every Thursday the group will walk to Mercy from the Senior Center or the Library parking lot with the goal to reach the Hospital by 8:30 for refreshments and education on the following topics: healthy eating, stroke signs and symptoms, diabetes and healthy living, fall prevention.
Harvard Balloon Fest –  SPOTS ARE FILLING UP QUICKLY!!!  
See Glenda Stewart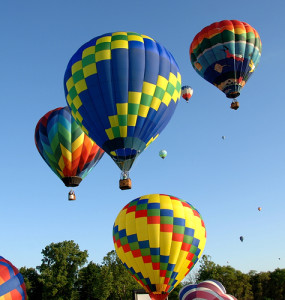 if you would like to sign up to volunteer.
YOGA IS BACK!!!  With a certified instructor teaching the Roll Model Method.
Watch for sign-up sheet and details.  This is one class your muscles won't want to miss!
Take Charge of Your Health!  
On Thursday, September 14th, from 1:30-3:00 we will be launching our introduction and registration for a nationally renowned Chronic Disease Self-Management Program (CDSMP).  The Northeastern Illinois Area Agency on Aging will provide instructors and materials to help our area seniors apply strategies to help delay health decline and deterioration.  CDSMP will be held here at the Harvard Community Senior Center beginning on September 21 at 1:30 and continues through October 26th.  Space in this FREE class is limited so please sign-up to confirm your spot.
Website/Facebook/Pinterest/Flickr
In September, Amanda Aleman will hold a demonstration on how to access and use our internet website, links and more.  See how our Harvard Senior Center is reaching out to our Community and beyond.
Harvard Community Senior Center
6817 Harvard Hills Road  ~  Harvard, IL 60033
815 943 -2740
Corporate Sponsors
Founding Sponsor — The City of Harvard
Diamond  Sponsor –Mercy Harvard Hospital
Platinum
*First Presbyterian Church of Harvard
* Harvard Ranch for Seniors
Gold
*Grant Resource$, LLC
*First National Bank
*Harvard Chevrolet-Buick-GMC
Silver
*The State Bank Group
*Saunders & McFarlin Funeral Home
Community Giving Leaders –
Full Circle Foundation
Covenant Transtions
KA Fund – Bank of America
Board of Directors
Penny Goad, President
Tina Magnetta, Vice President
Nancy Berkholtz, Secretary
Mike Clingingsmith
Kathy Schack
Senior Advisory Council
Bob Reed
Barb Rowe – Chair
Barb Cheek – Recording Secretary
Peggy York
Kathleen Robson
Dorothy Berry
Barb Youhn
Harvard Community Senior Center
6817 Harvard Hills Road, Harvard, IL 60033
Phone: 815.943.2740
Website:
www.harvardseniorcenter.org
E-mail:
Sharon.Smith@harvardseniorcenter.org    Sharon Smith, Grant Manager
Glenda.stewart@harvardseniorcenter.org  Glenda Steward, Site Manager
Amanda.aleman@harvardseniorcenter.org   Amanda Aleman, Program Assistant