Illinois Senior Farmers Market Nutrition Program Coupons
Check out their website for qualifying foods: FMNP
The Harvard Community Senior Center is working with The Area Agency on Aging (AAA) to become a distribution site for Farmers Market Coupons for qualifying seniors.  There are income and age guidelines. These coupons come in a booklet worth $25 per year to be used at vendors at local Farmers Markets.  There is a registration form to be filled out by each Senior that will be returned to the Area Agency on Aging.   Each Vendor that accepts these coupons will display a sign stating that they accept WIC and Senior Farmers Market Coupons.  This program is provided through the Illinois Farmers Market Nutrition Program (FMNP). There are several Markets that accept these coupons in our area including Woodstock, Harvard, and Crystal Lake Farmers Markets.
Market's Dates and times download here: Roadside Stands by County       or        Markets by County
Look for this sign at your local market: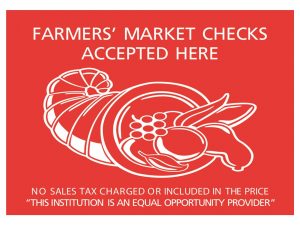 Dates the coupons are valid: July 10 thru October 31 2018.
Coupons are only valid for the year they are issued.
Educational materials provided to participants are in Spanish and English
Coupons will be available at the Harvard Community Senior Center during open hours beginning July 10.